So I decided that I needed to finally go to one of the short track races in Charlotte and today was the day. Darrell has done two of them and really enjoyed it but I am not really the racer type so I figured that I would take the Route 29 and enter the SS class and go out for a ride but not "race". Darrell has raced the SS class the last two times but wanted to give the Sport Men's class a shot this time even on the his SS Route 29. Darrell's race went off at 11:30 and looked pretty dang fast, Darrell ended up 17th out of 21 but will 11 laps which is what I later finished with in the SS class so it would have been interesting to see if we had both been in the SS class...(please dont beat me too bad next week Darrell!)
I really had no huge hopes going into my race. Not really being the racing type personality I just wanted to support the local race and have fun. When they yelled "GO" I got going and got in the woods pretty quick and higher up than I expected. I definitely wanted to make sure I didn't fizzle out later so I tried to keep myself slowed but the track is just screaming fast and fun. Lots of berms and a couple of smoother than smooth jumps that beg you to get air. After the first 2 laps I settled into a good rhythm that I knew I could keep up so I just made sure I had fun. It was too dang hot out for a penguin and about lap 5 I could feel my pale white skin sizzling and knew that the sucktitude of sunburn was gonna feel good later. I am happy with the 9th out of 17 results I did and think I will be heading back next Sunday to play again. Hopefully next time I will have a little better tire pressure, today was my first day on my new Bontrager XDX's and my normal pressure on other Bonty products deemed to high today, the good news is that my new Bontrager shoes are better than bad...they're GOOD. Very comfy shoes indeed and the 33x18 gearing was also a good choice for me and my knees.
Lots of complements on the new shop jerseys and mine and Darrells Goats, always cool to hear and see people staring them down.
Anyways, next weekend is the last race of the series and if you have not participated yet, YOU SHOULD! I had a really good time.
Savannah came along to take pictures and got some pretty good ones. She always insists on putting them through photoshop real quick and she did these few for me tonight, she should have more soon and most likely have a link to them on her blog www.savannahstrickland.blogspot.com
Me rocking the Route 29 SS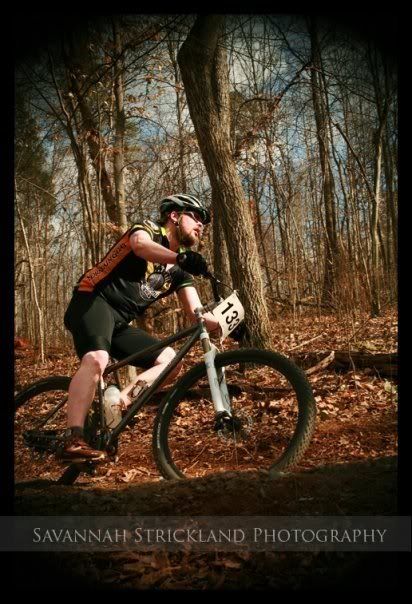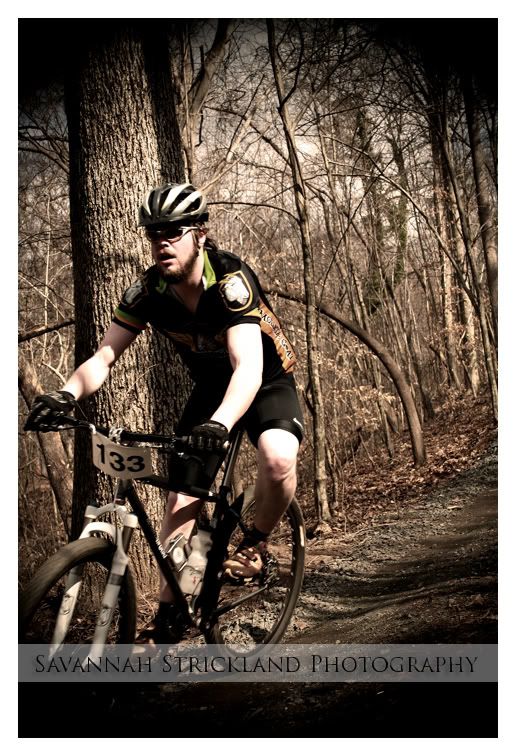 Darrell coming up the road section at the end of the course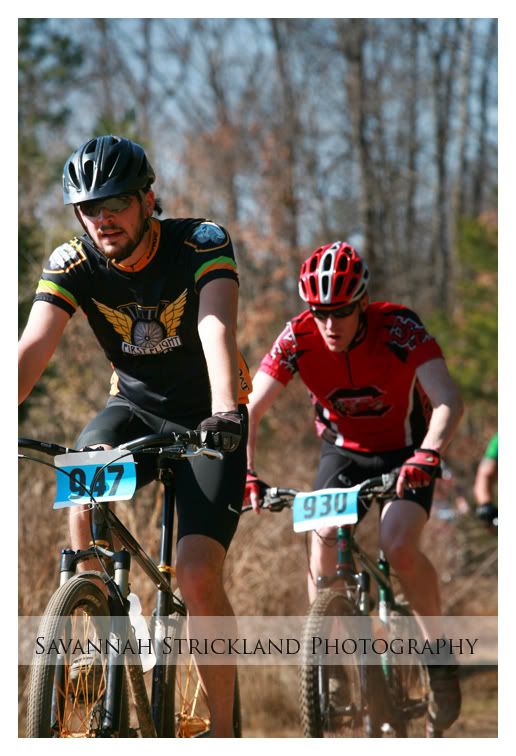 It's always good to see our favorite Canadian friend Ross Dowswell, glad I got to talk to him for a while before the race because he was much faster than me on the way to his 4th place in the SS category...sorry Ross your photo comes later! Also good to see our buddy David G at the race and a big thanks to him for handling a whiny Pony Boy while I raced, let me know when you sell that Superlight and are ready for your Goat.